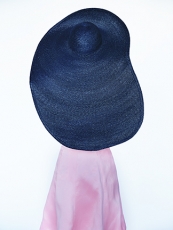 Hidden Details
March 21, 2019
The genres of fashion, portrait, art and landscape photography collide in an exhibition of Erik Madigan Heck (b. 1983) at Staley-Wise Gallery. They are tied together by the central presence of fashion – shaping each composition by a distinct relationship to colour, pattern, pose and garment. In most cases, though, the faces are obscured – whether by the subject's stance or various pictorial elements. This strikes the viewer from the first room, which features large-format photographs of women with their backs turned. Colour delivers another punch, highly saturated and jewel-toned, popping off of the white walled gallery space.
Painting Fashion: Erik Madigan Heck
April 15, 2019
Minimalistic yet chic, elegant yet bold, meticulously planned yet so fun—that is the dynamic that Erik Madigan Heck employs in his compelling images. His incisive painter's eye with a talent in selecting bright color schemes and ornate patterns, his artistic style is remarkably refreshing in an industry that is so heavily inundated. From the flood of florals in James Harden's latest GQ shoot, to the obscured faces of fashion models and his preference for natural light; Heck's photography is striking for his incorporation of unexpected elements that elevates and almost purifies the purpose of fashion photography.